All-In-One Password Recovery Pro  2023 Edition
Only software to recover ALL your passwords from 240+ popular Windows apps
---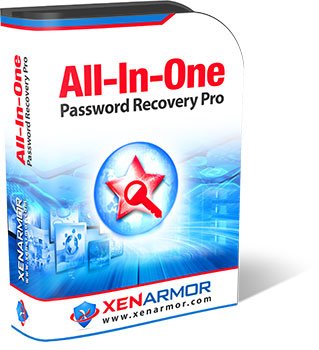 ---
---
FREE 2024 Upgrade
Order 2023 Version now & get FREE 2024 Upgrade on release
Did you forget login password of your Email, Social Network, Website, Messenger, Downloader, Database, FTP, VPN or Wi-Fi ?
If so All-In-One Password Recovery Pro can help you to instantly recover ALL your passwords. Free download now to check it out.
Instant recovery of all Passwords from

240+ apps

  (see full list)
Periodically recover & backup all your important Passwords
In the event of system crash, your Accounts/Passwords will be safe
No need to waste hours searching for passwords manually
No worry about technical details of password storage & decryption
Recover all type of passwords with a click of button

Website Login Passwords
Email Login Passwords
Social Network Passwords
Messenger Login Passwords
Download Manager Passwords
FTP Login Passwords
Router Passwords
Database Manager Passwords
Windows Vault Passwords (local/external drive)
Windows Credential Manager Passwords (local/external drive)
Windows VPN & Dialup Passwords
Wi-Fi (WEP,WPA,WPA2,WPA3) Passwords

'Registry Password Scanner' to find passwords from Registry
Support for Master Password for all Mozilla apps
Recover from portable apps or custom app locations* (see notes)
Recover from both 32-bit & 64-bit apps
Backup passwords to HTML,CSV,XML,JSON or SQLite file

Unlimited Edition (100% Portable):

Run directly from USB disk (see below)

FREE GIFT 1

– Asterisk Password Recovery Pro worth $39.95

FREE GIFT 2

– Windows Vault Password Pro worth $49.95
Free 1 Year Download Protection Warranty
Lifetime License – No worries about license expiry
Supports All Windows PCs (Vista to new Windows 11)
"Our 10+ Years of Research Work into One Masterpiece for You"
---
For 100% Command-line Portable Version, Please Click Below
Differences between Regular and Unlimited Edition of
All-In-One Password Recovery Pro
---
| Key Parameters | Personal/Enterprise Edition | Unlimited Portable Edition |
| --- | --- | --- |
| Number of Licenses | 1-5 PCs | Unlimited PCs |
| License Activation Needed | Every Computer | One Time |
| No Installation Needed | | |
| 100% Portable Software | | |
| Forensics-Ready | | |
| Run from USB Disk | | |
 Website Login Passwords
 Email Login Passwords
 Social Network Passwords
 Messenger Login Passwords
 Download Manager Passwords
 FTP Login Passwords
 Router Passwords
 Database Manager Passwords
 Windows Vault Passwords
 Windows Credential Manager Passwords
 Windows VPN & Dialup Passwords
 Wi-Fi (WEP,WPA,WPA2,WPA3) Passwords
Top Email Clients
Microsoft Outlook (2021,2019,2016,2013,2010,2007,2003,XP)
Microsoft Outlook Exchange

**

Mozilla Thunderbird
Mailbird
IncrediMail
Becky
Claws Mail
eM Client
FossaMail
Foxmail
Gmail Notifier
Opera Mail
Mail Commander
Poco Mail
Postbox
The Bat!
Windows Mail (old version)
Windows Mail App (Windows 10/11)  

**

Windows Live Mail
---
Top Instant Messengers
Trillian
Paltalk
Google Talk
Nimbuzz Messenger
Spark IM
Beyluxe Messenger
Digsby IM
Garena Messenger (hash)
IMVU Messenger
Instantbird
MSN Messenger
Miranda IM
Myspace IM
Pidgin Messenger
Windows Live Messenger
XFire Messenger (hash)
Yahoo! Messenger
---
Top FTP Clients
FileZilla
SmartFTP
Cyberduck
WS_FTP
Core FTP
32bitFTP
Alt Commander
Alftp
AutoFTP Pro
BitKinex
Bulletproof FTP
CoffeeCup FreeFTP
CoffeeCup DirectFTP
CuteFTP
Classic FTP
Directory Opus
Dreamweaver
EmFTP
ExpanDrive
FileZilla Server
FlashFXP
FlingFTP
Free Commander
Frigate
FTPCommander
FTP Explorer
FTP Control
FTP Navigator
FFFTP
FTPRush
Global Downloader
LeapFTP
Multi Commander
Putty Connection Manager
RazorSQL (FTP)
SoftX FTPClient
sFTP
SuperPuTTY
Total Commander
Turbo FTP
WebDrive
Web Site Publisher
WinSCP
XFTP
XShell
---
Wi-Fi Passwords
WEP
WPA
WPA2
WPA3
---
Windows Vault & Credential Manager Passwords
Cyberduck
ExpanDrive
G5 Games Friends Account

**

Gmail Notifier
Generic/Custom Credentials
GoPro Desktop App
Internet Explorer (Basic Auth Passwords)
Ivanti FileDirector (Appsense Datanow)
Microsoft Account
Microsoft Edge Browser (old version)
Microsoft Outlook (old version)
Microsoft Outlook Exchange

**

Microsoft Remote Desktop (RDP)

**

Network Domain Passwords

**

VMWare Workstation (Windows TPM Encryption Password)
Windows Live Messenger
Windows Mail App (Windows 10/11)

**
---
All Other Windows Apps
Advanced Installer
ApexDC++
AirDC++
Cisco Router
DC++
DLink Router
DVDFab
DynDNS
EiskaltDC++
FlylinkDC++
Full Tilt Poker
Juniper Router
Media Monkey
OpenVPN
Poker Stars
Razer Synapse
RealVNC
StrongDC++
TightVNC
Teamviewer
TigerVNC
UltraVNC
VNC
Windows Auto Logon Password
Windows VPN & Dialup Passwords
Top Web Browsers
Chrome
Firefox
Internet Explorer
Microsoft Edge (old & new)
Opera Browser
7Star Browser
Atom Browser
AOL Shield Browser
Amigo Browser
Apple Safari
Avant Browser
Avast Secure Browser
AVG Secure Browser
BlackHawk Browser
Basilisk Browser
Bittube Browser
Blisk Browser
Brave Browser
CentBrowser
Chedot Browser
CCleaner Browser
Chrome Canary Browser
Chromium Browser
Citrio Browser
Cliqz Browser
CryptoTab Browser
CoolNovo Browser
Coc Coc Browser
Comodo Dragon
Comodo IceDragon
Coowon Browser
Cyberfox Browser
Elements Browser
Epic Privacy Browser
Falkon (QupZilla)
Flock Browser
Ghost Browser
Green Browser
HissenIT Browser (master pass)
IceCat Browser
Insomniac Browser
Iridium Browser
K-Meleon Browser
Kinza Browser
Kometa Browser
Maxthon Browser
Mustang Browser
Netbox Browser
Opera GX Browser
Opera Neon Browser
Opera Crypto Browser
Orbitum Browser
Pale Moon Browser
Pirate Browser
QQ Browser
SalamWeb Browser
SeaMonkey Browser
Sidekick Browser
Sleipnir Browser
SlimBrowser
Slimjet Browser
Sputnik Browser
SRWare Iron Browser
SSuite NetSurfer Browser
Superbird Browser
Swing Browser
Tor Browser
Torch Browser
UC Browser
UR Browser
Uran Browser
Viasat Browser
Vivaldi Browser
Waterfox Current Browser
Waterfox Classic Browser
Whale Browser
---
Top Database Managers
AnySQL Code Factory
AnySQL Maestro
ASA Code Factory
ASA Maestro
DB2 Code Factory
DB2 Maestro
Firebird Code Factory
Firebird Maestro
FlameRobin
MaxDB Code Factory
MaxDB Maestro
MSSQL Code Factory
MSSQL Maestro
MySQL Code Factory
MySQL Query Browser
MySQL Maestro
Navicat MariaDB
Navicat MongoDB
Navicat MySQL
Navicat Oracle
Navicat PostgreSQL
Navicat Redis
Navicat SQLite
Navicat SQL Server
Oracle Code Factory
Oracle Maestro
PostgreSQL Code Factory
PostgreSQL Maestro
RazorSQL
SQLite Code Factory
SQLite Maestro
---
Top Download Managers
BitComet
Download Accelerator Plus (DAP)
EagleGet
FlashGet
Free Download Manager (FDM)
Internet Download Manager (IDM)
JDownloader
Mass Downloader
Mipony Downloader
Orbit Downloader
uGet Download Manager
Xtreme Download Manager (XDM)
---
Note: Personal Edition supports password recovery from only 160 apps including Browsers, Email Clients, Messengers, FTP Clients, Wi-Fi Passwords & Credential Manager. Enterprise & higher editions support password recovery from all the above 240+ apps.
Apps marked ** are recovered using Windows Vault Password Recovery Pro software included in Enterprise & higher editions
Please note that password recovery from External Drive or custom profile location of other users is not possible for applications (like Chrome, Edge, Opera, Outlook etc) which uses user/machine specific encryption.
To recover all your passwords from external drive or other users, please download All-In-One External Drive Password Pro below.
For 100% Password Recovery from External Drive, Please Download
Key Features & Benefits for You
---
All-In-One Password Recovery
Recover Email, Social, Website, Messenger, Downloader, Database, FTP, WiFi Passwords
Recover from 240+ Apps
Instantly recover all your passwords from 240+ popular apps in seconds
Registry Password Scanner
Fast optimized scanner to quickly find all passwords from Windows Registry
RECOVER FROM CUSTOM Location
Recover from custom profile locations, portable apps or external disk
Recover from 32-BIT & 64-bit Apps
Support password recovery from both 32-bit & 64-bit applications
Recover from All Users
Auto recover passwords from all user accounts for Mozilla based apps
EXPORT ALL Passwords TO FILE
Save all recovered passwords to HTML, CSV, XML, JSON or SQLite file
PORTABLE UNLIMITED EDITION
Run on Unlimited PCs from USB disk without installation or activation
All WINDOWS SUPPORT
Works on all 32-bit & 64-bit platforms from Windows Vista to new Windows 11
Featured On Top Download Sites
Featured & Awarded by world's leading software download sites.
---

---
---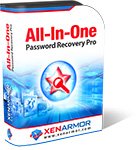 ---
All-In-One Password Recovery Pro  2023 Edition
One software to recover ALL your passwords from 240+ popular Windows apps
---
---
For 100% Command-line Portable Version, Please Click Below